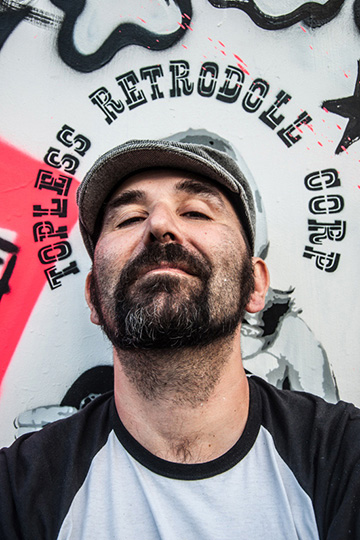 Carlos Olmo is a self-taught Parisian artist,  born in 1970 and inspired by rock music, American comics, super heroes, Miro, Caravaggio, Francis Bacon and the power and violence of movement, among other things. Over the years, he has explored different areas of graphic illustration, and his work has progressively become a kind of bestiary of Pop Culture which he strives to enlarge.
LET THE 'IN' COME OUT 
Giving vent to the "in" of inexplicable, inaccessible, invincible and invisible by bringing them to the surface of the work.
In a current project drawing on the tradition of the 'Vanitas', Carlos takes on some of the mythical figures of pop-rock iconography.
Through a technique of layering, whereby graphic representations of skeletons are superimposed onto photographic portraits, the artist seeks to bring out the hidden dimension of the image,
that which is invisible and inaccessible, defying perception, by placing it in the foreground of the work. Through this graphic process, he tries to free these skeletons of the negative and morbid connotations which generally surround them.
Rehabilitated as symbolic illustrations of Truth and the resistance of Life, they become noble representations of our self-awareness in space and time. Viewers are invited to confront their immediate perception with the truth which emerges from the symbolic background of the original image which the artist has deliberately brought to the fore, providing an open and subjective field of interpretation.
Each viewer can find their own meaning as the power of the Signifier ebbs away.
EXPOSITION
"One Year Of Batman" Oppidium Space – Paris
"Rock Icons" French Paper Art Club – Gallery – Paris
"Foo Fighters World Tour" – French Paper Art Club – Gallery – Paris "Aucwin" Contemporary Urban Art – Paris / Saint-Denis
"Dragon Age Inquisition" Ea Games (Video Game)
EXPOSITION SERIGRAPHY
75 Years Of Batman "I Am Gotham" & " Tribute To Detective Comics 69" "Marathon Harry Potter" At Grand Rex – Paris (4 Creations)
SERIGRAPHY CREATION
"Thirty Seconds To Mars" At Grand Palais – Paris
"Foo Fighters" Show At Cesena (Italy)
"Silence" Metal Gear Solid V – Konami (Video Game)
"Serial Killer" Dragon Age Inquisition Ea Games (Video Game)