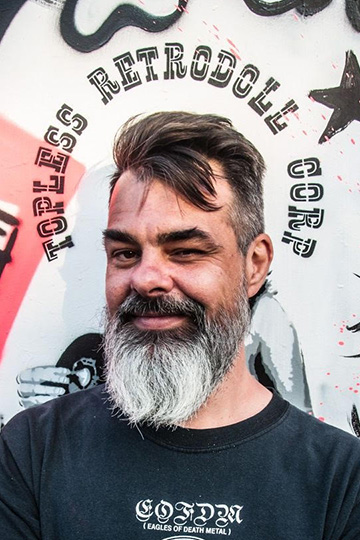 Jungle is a artist who has ventured into many different forms of art. Because he began drawing at a very young age, he has been able to curate works of art that touch many genres. He is well versed in illustrations styles such as Cinematography, comic books, and web design. His inspirations include Keith Haring, American comic books, cubism, and pulp magazine covers. His artwork continues to blur the lines between contemporary, popular, and urban art. He has collaborated on multiple occasions with fellow artist, Carlos Pop.
From the street to the canvas , it depicts a character who also has all of this movement. A fun and unifying character , the heart of a work that summons the proven aesthetic and emotional bluntly. Of feeling rather than sense. Imaginary and chimerical creature, red dog a.k.a. the RaidDog moved into his studio and his paintings like an obvious topic to explore and treat. After several years of existence confined to the JUNGLE books and imagination , the character crazy , whimsical and anthropomorphic now fully evolves into a colorful, and is exposed on the different plastic spaces that the artist explores.
This character , invested with a glance, with a psychic life and with a real physical integrity guides the artist's approach towards new media or new treatments and formats. From his graphic experiments to his visual experiences , the dog breaks free from its frame to reach the third dimension and becoming in volume, a sculpture.
This story is ultimately that of the emancipation of a symbolic space , which accesses its own life and is freed from the framework narrow and defined which contained its potential. In this work between architecture and sculpture , the dualities that occupy the working of JUNGLE are at the heart of the matter. The reports Humanity / Bestiality or Inside / Outside will offer space for reflection plastic while those who create the dialogue between supports and the surface seem to
stop , to let the ideas meet and merge the time of a creation. In fact , in ideally designed by JUNGLE , the surface of the work can become support for the creation within the limits circumscribed by the size of the human and therefore that
of its ability to cover the body of sculptural volume. Art in progress
EXPOSITION
"CENTRE MUSICAL FGO BARBARA" Mural creation (6m x 2m) – Paris
"STROKAR 2016" with 60 international artists – Bruxelles
"AUCWIN I STREETART" Contemporary urban Art – Paris / Saint-Denis
"MONTREUIL STREET ART FEST" Mural creation (25m x 7m) – Paris / Montreuil
"FESTIVAL – LA FABRIQUE À RÊVES" RaidDog monumentale installation (12m x 8m x 8m) – Paris / Saint-Denis
"UNDEFINED 1.0" Collective mural creations – Paris / Saint-Denis
"MONTREUIL DAY" Live painting – Paris / Montreuil
"NUIT BLANCHE I RÉSEAU FRICHE" Collective mural creations, Paris
"PAYSAGES I ART CONTEMPORAIN" Vidéo projection & mapping, Paris / Saint-Denis
"GALACTUS VS. RAIDDOG" Fresque RaidDog (10m x 3m)  Paris / Saint-Denis
"DIRTY HARRY VOL.2 I STREET ART" – Paris
"SECOURS POPULAIRE FRANÇAIS I STREET ART" – Paris