JOÃO DE MENDONÇA LIMA FILHO
---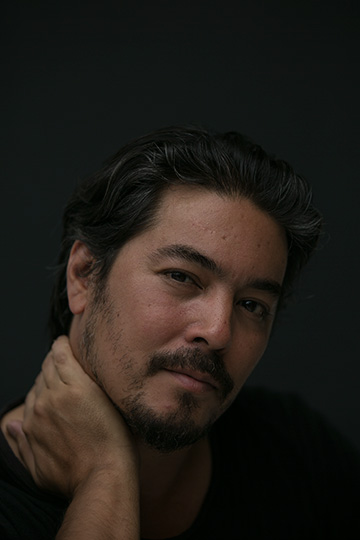 JOÃO DE MENDONÇA LIMA FILHO is a Brazilian/Japanese independent filmmaker. He grew up in countries such as France, Germany, Paraguay, UK and Japan. Being brought up in a multicultural family and the constant moving has defined who he is today as an individual and filmmaker. His passion for filmmaking, art and music has led him to be involved in all aspect of production from concept to end. He has degree in Fine Arts at Goldsmith University in London where he focused on photography, sound and videos.
After graduating, he continued his filmmaking studies doing courses in directing and scriptwriting at Raindance Film School and London Film School. He has directed 4 short films, IDORU being his third and the one he is most proud of. He wrote, co-produced, directed and played the main character in the film. It was shortlisted at the Rio Film Festival.
Upon his return to Brazil in 2011, he directed institutional videos for Casa Daros, the first Latin American Art Museum. He has also directed commercial online advertisement for Itaipava, Shopping Leblon, a Fashion brand called "H" and Nuxe. In 2014, he made a pilot for an educational TV series about archaeology. The first of its kind in Brazil. He is now back in Japan where he will make his first feature documentary about the first African and Middle East sumo wrestler Osunaarashi Kintaro. An intimate portray with emphasis on the cultural clash he is living in.
TV
TV Brazil about Brazilian Archeology (Director) / Brazil / 2015
Pre-production
DOCUMENTARY
Sumo Habibi Sumo with Osunaarashi Kintaro / Egypt, Japan / 2014 – 2015
Scriptwriter, Co-producer, Director
SHORT FILMS
Idoru / New York / 2008
Scriptwriter, Directing, Co-producer, Art direction and Acting
CORPORATE FILMS
Motorola / London / 2008-2010
Directing
FASHION FILMS
Shopping Leblon / Rio de Janeiro / 2011 – 2014
Directing promos, Photography and Editing
EDUCATION
Theater office with Sarkis Tcheumlekdjian / Rio de Janeiro / 2013
Directing course at London Film School / London / 2006
Script and directing certificate at Raindance / London / 2003
B.A in Fine Arts at Goldsmith University/ London / 1998 – 2002
Asian Studies and Japanese film studies at Temple University/ Japan / 1994 – 1996
French Baccalauréat / Brazil – Japan / 1991 – 1992
ACTING AREAS
Directing for cinema, commercials, corporate, documentaries and music videos
Art Director
Camera operator (HD) e photography
Editing (Final Cut Pro)
LANGUAGES
English (fluent)
Portuguese (fluent)
French (fluent)
Spanish (conversation)
TV 2015
In pre-production of educational series for TV Brazil about Brazilian Archeology (Director) / Brazil / 2015
Documentary 2014 – 2015
• Sumo Habibi Sumo with Osunaarashi Kintaro (Scriptwriter, co-producer, director) / Egypt, Japan / 2014 – 2015
Short Films 1997 – 2012
• The Dancing Snake with Mariana Ximenes (Scriptwriter, producer, director) / Rio de Janeiro / 2012
• Idoru (Scriptwriter, directing, co-producer, art direction and acting) / New York / 2008
• Absomphe (Scriptwriter, producer, director and acting) / London / 2003
• Alice in Tokyoland (Scriptwriter, producer, director) / London / 1997
Fashion Films 2007 – 2012
• H Brand / São Paulo / 2012
Directing, scriptwriter, art direction and editing
• Shopping Leblon / Rio de Janeiro / 2011 – 2014
Directing promos, photography and editing for Shopping Leblon
• The Dancing Snake teaser with Mariana Ximenes (Scriptwriter, producer, director) / Rio de Janeiro / 2012
• Bel et Bon / London / 2007
Directing, scriptwriter, art direction and editing
Corporate videos 2004 – 2013
Companies I have worked for full time or as freelance
(Directing, hotography, interviews, editing and DVD formating):
• Cine Cinemátografica / São Paulo / 2013
Directing and editing of video case for Itaipava of ad agency Y & R
• Casa Daros (Latin American Art Institute) / Rio de Janeiro / 2011
Directing of corporate videos which include interviews, workshops and conferences
• Oriental Companion Media Ltd. (Chinese T.V Production) / Beijing / 2009 – 2010
Directing part of documentary about the Louvre and opening sequence for Budhist Conference in China
• AMV BBDO Agency / London / 2009
Directing corporate videos for Walker (Doritos) – Aviva
• Raymond Loewy International Ltd. (P.R Company) / London / 2010
Directing corporate videos for Volvo
Vimeo:vimeo.com/joaodemendonca/videos
• Exposure (Comunication Agency) / London / 2008
Directing promotional videos for Triumph – Rizla – Umbro – Tiger
• Munro & Forster (Traditional P.R Company) / London / 2007
Directing educational videos for NHS, British Public Health group
• Not Actual Size (Experimental P.R Company) / London / 2008 – 2010
Directing corporate videos for – Motorola – Rayban
• The Fish Can Sing (PR Company) / London / 2004 – 2006
Directing corporate videos for Motorola – Absolut Vodka (Absolut Tracks)
Art Videos / Art installations 2000 – 2002
• Heartbreak Hotel / London / 2002
Multimedia: performance + video installation
• Xylocaine / Tokyo / 2000
Multimedia: performance + video installation
Photography 1997 – 2001
• Embratur Tourism Campaign / Brazil / 2001
Photographer for Brazil's touristic attractions
• Kazumi Kurigami and Kohei Onishi / Japan / 1997 – 1998
Assistant to photographer Kazumi Kurigami and Kohei Onishi
Creative Director 2002 – 2003
• McCann Erikson Agency / London
Creative director for Coca-Cola, Master Card, Bacardi e Clarins campaigns